Expanding Access and Inclusion by Combating the Rising Cost of Textbooks
Posted on: March 20, 2017
By: Jenne Klotz
We have all probably been surprised by the cost of a textbook at some point.  And we've probably all experienced frustration about what to do about it—we choose the best resources for our classes but we have little influence over the prices students pay.  Until now. The Open Textbook Network (OTN) is a group of over 350 colleges, universities, libraries and library consortia united in the goal of making education more affordable by providing access to free open textbooks.  JMU Libraries & Educational Technologies, through its membership in the Virtual Library of Virginia (VIVA), is proud to be a member of the OTN.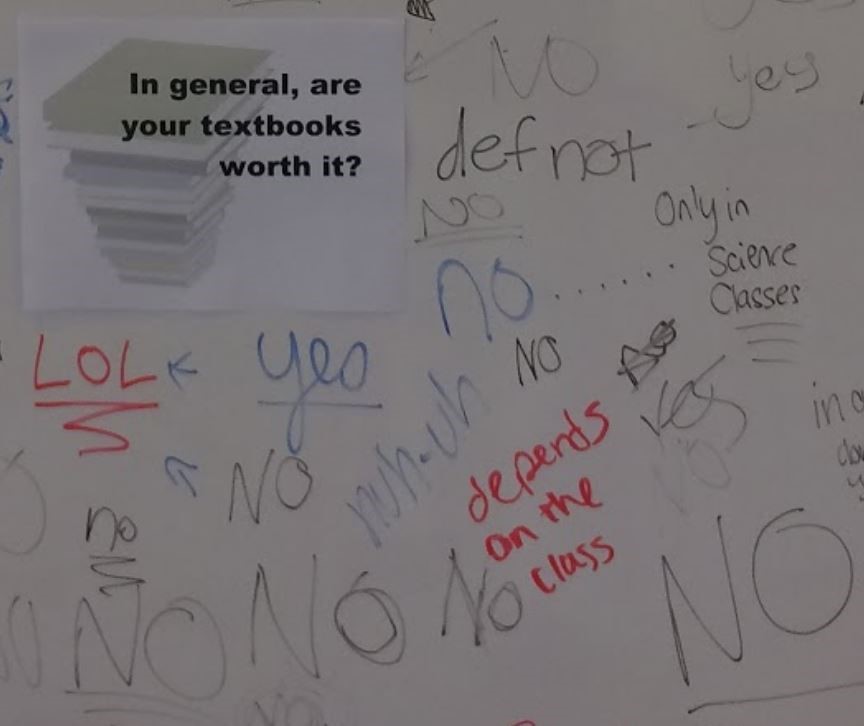 The OTN maintains an Open Textbook Library that provides access to high quality, faculty reviewed open (free) textbooks that you can adopt for use in courses ranging from accounting to law to the humanities and sciences and almost everything in between.  With funding from universities, government grants and private foundations, the books are published and licensed for free use, adaptation and distribution through Creative Commons licensing.  The OTN reports that in 2016 adoption of open textbooks resulted in cost savings of $1.5 million to students.  Finally an alternative that can make a real difference in the cost of attending college and attaining a degree.
The OTN is an offshoot of the Open Educational Resources (OER) movement.  The OER movement aims to level the global playing field by providing access to more affordable educational resources and expanding opportunities for participation in knowledge creation.  Providing students and instructors with access to quality open resources is a key step in making education more widely available.  The benefits of adopting open resources are numerous, including affordability, the ability to update content quickly, and endless opportunities for students and faculty to adapt, modify, and engage with the content.
Liz Thompson, the Instruction and Educational Resources Coordinator at JMU Libraries & Educational Technologies, is our local OTN champion.  Liz provides leadership for librarians and instructors who wish to include open educational resources in their course materials.  Liz is offering a workshop for faculty who are interested in exploring adoption of open textbooks on March 1, 2017 .  If you are not able to attend the workshop, Liz offers the following suggestions for learning more about open textbooks:
Explore the Open Textbook Library to see what is available in your discipline
Talk to your students to learn about their thoughts about traditional textbooks
Talk to your colleagues to see whether adopting open resources is right for your classes or department
Get the facts—visit The Open Textbook Network to learn more about the academic value of open textbooks
Review, adopt, and adapt a book
Explore other types of OER by visiting JMU's OER Guide
Talk to your liaison librarian for strategies on using other open educational resources in your classes
With up to 70% of students reporting that they have opted not to purchase a required textbook due to cost, the OTN is an essential tool in the effort to make education more affordable and accessible to all.  There has never been a better time to explore open educational resources, and the Open Textbook Network is a great way to get started.
(image from a whiteboard poll in Carrier Library, spring, 2017)
– See more at: http://www.jmu.edu/news/academic-affairs/2017/02-24-expanding-access-and-inclusion-by-combating-the-rising-cost-of-textbooks.shtml#sthash.V8a0ljy4.dpuf
Categorised in: JMU Libraries News